Category Archives: Uncategorized
Directories. It helps when you can read the text!
You'll always be able to read directories from Building History.
The following is a list I have compiled of the Canadian cities and towns for which there are Fire Insurance Plans. I won't say this is a complete list, but it does contain over 1000 cities and towns across Canada. Use the search function (CTRL + F) to find your city or town. Some locations may have changed names or are now ghost towns.
If you require a Fire Insurance Plan for your research, I will do my best to find them for you.
British Columbia:
Abbotsford and Matsqui
Agassiz
Alberni and Port Alberni
Aldergrove
Anyox or Granby Bay
Armstrong
Ashcroft
Barkerville
Barnett
Beaver Cove
Boston Bar
Burnaby
Burns Lake
Bralorne
Brittania Beach
Campbell River
Canadian Fishing Company
Cassidy
Castlegar
Chase
Chemainus
Chilliwack (includes Cultus Lake and Sardis)
Clinton
Cloverdale (Surrey)
Coalmont
Cobble Hill
Comaplix
Comox
Courtenay
Cranbrook
Crescent Beach (Surrey)
Creston
Cumberland
Dawson Creek
Duncan
Eburne (Marpole in Vancouver)
Elko
Enderby
Esquimalt
Fernie
Field
Fort Nelson
Fort St. John
Fort Steele
Fraser Mills (Coquitlam)
Fruitvale
Gibsons
Gold Bridge
Golden
Grand Forks
Hammond (Maple Ridge)
Haney (Maple Ridge)
Harrison Hot Springs
Hazelton
Hedley
Hope
Invermere
Kamloops and Tranquille
Kaslo
Kelowna
Keremeos
Kimberley
Ladner
Ladysmith
Langley
Lillooet and Bridge River
Lytton
Maillardville (Coquitlam)
Maple Ridge (Haney, Hammond)
Marysville (now part of Kimberly)
McBride
Merritt
Midway
Mission
Moyie
Nakusp
Nanaimo
Natal
Nelson
New Denver
New Michel
New Westminster
North Vancouver
Northern Canneries
Oak Bay
Ocean Falls
Oliver
Osoyoos
Peachland
Penticton
Phoenix
Pinchi Lake
Port Alice
Port Coquitlam
Port Moody and IOCO
Pouce Coupe
Powell River
Prince George
Prince Rupert
Princeton
Quesnel
Radium Hot Springs
Revelstoke
Rolla
Richmond
Rosedale
Rossland
Salmo
Salmon Arm
Saanich
Sandon
Seashelt
Sidney
Silverton
Sinclair Mills
Slocan City
Sointula
Smithers
Squamish
Stanley
Stave Falls
Steveston (Richmond)
Stewart and Portland Canal
Summerland
Swanson Bay
Telkwa
Terrace
Trail
Vancouver
Vanderhoof
Vernon
Victoria
Wellington
Wells
Westbank
West Summerland
West Vancouver
Westminster Junction (Port Coquitlam)
White Rock
Williams Lake
Yahk
Yale
Yarrow
Ymir
Zeballos
Alberta:
Banff
Blairmore
Calgary
Camrose
Cardston
Claresholm
Coleman
Didsbury
Daysland
Drumheller
Edmonton
Fort Macleod
Fort Saskatchewan
Frank
Grand Prairie
High River
Hillcrest
Lacombe
Leavings
Leduc
Lethbridge
Lloydminster
Medicine Hat
Nanton
Okotoks
Olds
Penhold
Ponoka
Redcliff
Red Deer
Stavely
Stettler
Vegreville
Vermilion
Wainwright
Wetaskiwin
Manitoba:
Benito
Brandon
Brookdale
Brooklands
Carberry
Clearwater
Darlingford
Dauphin
Durban
East Kildonan
Edrans
Elva
Ethelbert
Flin Flon
Fort Garry
Gladstone
Goodlands
High Bluff
La Riviere
Mariapolis
Mather
McCreary
Moore Park
Morden
Neepawa
Ochre River
Portage La Prairie
Roblin
Rosenfeld
Selkirk
Sinclair
Snowflake
St. Boniface
St. James
St. Vital
Ste. Anne
Souris
The Pas
Thompson
Transcona
Virden
West Kildonan
Winnipeg
New Brunswick:
Albert
Andover
Apohaqui
Bath
Bathurst
Bathurst
Black's Harbour
Buctouche
Campbellton
Canterbury
Centreville
Canterbury
Centreville
Chatham
Chipman
Dalhousie
East Florenceville
Dorchester
Edmundston
Fredericton
Gagetown
Grand Falls
Hampton
Hartland
Hillsboro
McAdam Junction
Marysville
Minto
Moncton
Newcastle
Norton
Orcomocto
Penobsquis
Petitcodiac
Pexton
Port Elgin
Richibucto
Rogersville
Salisbury
Shediac
St. John
St. Leonard
St. Stephen
Sackville
St. Andrews
St. George
St. Martins
St. Quentin
Shediac
Shippegan
Stanley
Sussex
Tracadie
Woodstock
Newfoundland:
Bishop Falls
Botwood
Burin
Carbonear
Cornerbrook
Deer Lake
Fortune
Gander
Grand Bank
Grand Falls
Harbour Grace
Lewisporte
St. John's
St. Lawrence
Stephensville
Wabana
Windsor
Nova Scotia:
Amherst
Annapolis Royal
Antogonish
Arichat
Baddeck, Cape Breton
Bear River
Bedford
Berwick
Bridgetown
Bridgewater
Canning
Canso
Chester
Dartmouth
Digby
Ferrona
Glace Bay, Cape Breton
Greenwood
Guysboro
Halifax
Hantsport
Inverness
Kentville & New Minas
Kingston
Lawrencetown
Liverpool including Part of Village of Brooklyn
Lockeport
Londonderry
Lunenburg
Mabou
Mahone Bay
Meteghan
Middleton
Milton
Mulgrave
New Glasgow
New Waterford, Cape Breton
North Sydney, Cape Breton
Oxford
Parrsboro
Pictou
Port Hastings
Port Hawkesbury
Port Maitland
Port Williams
Pugwash
Shelburne
Shubanacadie
Springhill
St. Peters
Stellarton
Sydney
Sydney Mines
Tatamagouche
Trenton
Truro
Westville
Westville
Weymouth
Windsor
Wolfeville
Yarmouth
Ontario:
Acton
Ailsa Craig
Ajax
Alexandria
Alfred
Alliston
Almonte
Alton
Alvinston
Amherstburg
Ancaster
Ansonville
Arkona
Arnprior
Arthur
Athens
Attwood
Aurora
Avonmore
Aylmer
Ayton
Baden
Bancroft
Barrie
Bath
Bayfield
Beachburg
Beachville
Beamsville
Beaverton
Beeton
Belle River
Belleville
Belmont
Bertie Township
Bethany
Biscotasing
Blenheim
Blind River
Bloomfield
Blyth
Bobcaygeon
Bolton
Bothwell
Bowmanville
Bracebridge
Brampton
Brantford
Brechin
Bridgeburg
Brigden
Brockville
Brooklin
Bruce Mines
Brucefield
Brussels
Burford
Burks Falls
Burlington
Burlington Beach
Byng Inlet
Cache Bay
Caledonia
Callander
Camden East
Campbellford
Cannington
Capreol
Carleton Place
Carp
Casselman
Castleton
Cayuga
Chapleau
Chatham
Chatsworth
Cheltenham
Chesley
Chesterville
Christie Henderson Co. Limited
Claremont
Clarksburg
Clifford
Clinton
Cobden
Coboconk
Cochrane
Colborne
Coldwater
Collingwood
Comber
Consecon
Cookstown
Cooksville
Corbyville
Cornwall
Courtright
Crediton
Creemore
Crysler
Crystal Beach
Cutler
Dashwood
Deep River
Delaware
Delhi
Delta
Depot Harbor
Desbarats
Deseronto
Dorchester Station
Drayton
Dresden
Drumbo
Dryden
Dundalk
Dundas
Dunnville
Durham
Dutton
Eganville
Elgin
Elk Lake
Elliot Lake
Elmira
Elmvale
Elmwood
Elora
Embro
Embrun
Englehart
Enterprise
Erin
Espanola
Essex
Exeter
Farran's Point
Fenelon Falls
Fergus
Finch
Fingal
Flesherton
Florence
Fonthill
Fonthill
Fordwich
Forest
Forester's Falls
Fort Erie
Fort Frances
Foxboro
Frankford
French River
Galt
Galt
Gananoque
Garden River
Georgetown
Glen Robertson
Glen Williams
Glencoe
Goderich
Goodwood
Gore Bay
Gorrie
Grand Valley
Granton
Gravenhurst
Grimsby
Guelph
Hagersville
Hagersville
Haileybury
Hamilton
Hanover
Harriston
Harrow
Harrowsmith
Hastings
Havelock
Hawksbury
Hearst
Hensall
Hepworth
Hespeler
Highgate
Hillsburg
Holstein
Huntsville
Ingersoll
Inkerman
Iroquis Falls
Jarvis
Jasper (Irish Creek)
John Island (Moulthrop Lumber Co.)
Kapuskasing
Kearney
Keewatin
Keewatin
Kemptville
Kenora – Rat Portage, Ont., including Norman and Keewatin
Kerwood
Killaloe Station
Killarney
Kincardine
King City
King City King or Springhill
Kingston
Kingsville
Kirkfield
Kirkland Lake
Kitchener
Lakefield
Lakeport, Ont., formerly Colborne Harbour
Lanark
Lancaster
Lansdowne
Larder Lake
Latchford
Leamington
Lindsay
Lindsay
Listowel
Little Britain
London
L'Orignal
Lucknow
Lyn
Madoc
Mallorytown
Manilla
Manitowaning
Manotick
Markdale
Markham
Marlbank
Marmora
Martintown
Massey
Matachewan
Matheson
Mattawa
Maxville
Meadford
Meaford
Merrickville
Merritton
Metcalfe
Midland
Mildmay
Millbrook
Mille Roches
Milton
Milverton
Mimico
Mitchell
Moose Creek
Morrisburg
Mount Albert
Mount Brydges
Mount Forest
Napanee
Nepean
Neustadt
New Hamburg
Newboro
Newburgh
Newbury
Newcastle
Newmarket
Niagara Falls
Niagara on the Lake
North Augusta
North Bay
North Gower
Norwich
Norwood
Oakville
Oakwood
Odessa
Oil City
Oil Springs
Omemee
Orangeville
Orillia
Oshawa
Osnabruck Centre
Ottawa
Ottawa, Lumber District
Otterville
Owen Sound
Paisley
Pakenham
Palmerston
Paris
Parkdale
Parry Sound
Pembroke
Penetanguishene
Peterborough
Petrolia
Pickering
Picton
Plantagenet
Plattsville
Point Edward
Pontypool
Port Arthur
Port Burwell
Port Colborne
Port Dover
Port Elgin
Port Hope
Port Lambton
Port Perry
Port Robinson
Port Rowan
Port Stanley
Portland
Powassan (Parry Sound District)
Prescott
Preston
Queensborough
Rainy River
Renfrew
Renfrew
Richard's Landing
Richmond
Richmond Hill
Ridgetown
Ridgeway
Ripley
Riverside, now St. Matthew's Ward, Toronto
Rockland 1933 Key only large
Rockwood
Russell
Sarnia
Sarnia
Sault Ste. Marie
Schomberg
Schreiber
Schumacher
Seaforth
Sebringville
Seeley's Bay
Selkirk
Shakespeare
Shannonville
Shedden
Simcoe
Sioux Lookout
Smiths Falls
Smithville
South Indian
South Porcupine
South River, Parry Sound
Southampton
Spanish River
Spragge (Cook's Mills)
Springfield
St. Catharines
St. Eugene
St. George
St. Jacob's
St. Marys
St. Thomas
Staples
Staples
Stayner
Stevensville
Stirling
Stouffville
Stratford
Streetsville
Sturgeon Falls
Sudbury & District
Sunderland
Sundridge
Sutton
Sutton 1939 Key only large
Swastika
Sydenham
Tamworth
Tara
Tavistock
Teeswater
Thamesford
Thamesville
Thedford
Thessalon
Thistletown
Thornburg
Thornbury
Thorold
Thunder Bay Fort William
Tilbury
Tilbury Centre
Tillsonburg
Tiverton
Toledo
Toronto
Tottenham
Trenton
Unionville
Uxbridge
Vankleek Hill
Victoria Harbour
Victoria Road
Vienna
Vittoria
Wales
Wallaceburg
Wardsville
Warkworth
Waterdown
Waterford
Waterloo
Waubashene
Webbwood
Welland
Wellesley
Wellington
West Lorne
West Toronto Junction
Westmeath
Westport
Wheatley
Whitby
Whitney
Wiarton
Williamstown
Winchester
Windsor
Wingham
Woodstock
Woodville
Wooler
Wroxeter
Wyoming
Yarker
Yorkville
Zurich
Prince Edward Island:
Alberton
Annandale
Borden
Cardigan
Charlottetown
Coleman
Crapaud
Dundas
Georgetown
Hunter River
Kensington
Miscouche
Montague
Montague Bridge
Mount Stewart
Murray Harbour South
Murray Harbour.
Murray River
O'Leary
Pownal
Souris East
St. Peters Bay
Summerside
Tignish
Tyne Valley
Vernon River Bridge
Victoria
Victoria
Wellington
Quebec:
Acton Vale
Amos
An.jou
Arthabaska
Arvida
Asbestos
Bagotville
Baie Comeau
Beaconsfield
Beauceville
Beaupharnois
Beaupre
Beebe Plain
Beliol
Berthierville
Bic
Black Lake
Boucherville
Bourlamaque
Brigham
Bromptonville
Buckingham
Buckingham, including Masson or Buckingham Sta'n
Cabano
Cacouna
Calumet
Cap de la Madeleine
Cap Santé
Cap St. Ignace
Chambly
Chambord
Champlain
Chandler
Charlemagne
Charny
Chateau Richer
Chateauguay Basin
Chateauguay Village
Cheneville
Chomedy
Coaticook
Contrecoeur
Cote Des Neiges
Cote St. Pierre (Turcot Village)
Coteau Landing
Coteau Station
Cowansville] Sweetsburg
Deschaillons] St. Jean des Chaillons
Deschambault
D'Israeli
Dixie
Dolbeau
Donnacona] Les Ecureuils
Dorval
Drummondville & Vicinity.
Eastman
Forestville
Frelighsburg
Gatineau
Gracefield (Victoria Village)
Granby
Grand'Mere
Grenville
Hemmingford
Howick
Hull
Huntingdon 1
Iberville
Ile Verte
Joliette
Jonquiere-Kenogami
Kamouraska
Kingsey Falls
La Pocatière] Ste. Anne de la Pocatière
La Prairie
La Tuque
Labelle
Lac Edouard] Lake Edward
Lac-Brome] Knowlton
Lachine
Lachine
Lachute
Lac-Mégantic] Lake Megantic
L'Ange Gardien
L'Annonciation
Laprairie
L'Assomption
Laurenides
Lauzon
Laval (St-Vicent-de-Paul)] St. Vincent de Paul
Lennoxville
L'Epiphanie
Les Eboulements
Levis
L'Islet
Longueil
Longue-Pointe
Longueuil
Loretteville
Lotbinière
Magog
Maisonneuve
Maniwaki
Marieville
Mascouche] St. Henri de Mascouche
Maskinongé
Massueville] St. Aimé
Matane
Mirabel Ste. Scholastique
Mistassini
Mont Joli
Mont Laurier
Montreal
Montreal East
Montreal West
Mont-Tremblant] St. Jovite
Mount-Saint-Hilaire] St. Hilaire
Napierville
Nicolet
Noranda
North Hatley
Notre-Dame-de-Pierreville] Pierreville Mills, Que., or (Notre Dame de Pierreville)
Papineauville
Pierreville
Pierreville Mills
Plessisville
Point Claire
Pointe Aux Trembles
Pointe aux Trembles
Pointe Claire
Pointe Gatineau
Pont Rouge, Ste. Jeanne de Neuville
Portage du Fort
Porte Alfred
Princeville
Quebec
Quyon
Richmond
Rimouski
Riviere du Loup
Roberval
Rockfield
Rouyn .
Roxton Falls
Saint Jacques l'Achigan
Sault Au Recollet
Sawyerville
Scottstown
Shawinigan Falls
Shawville
Sherbrooke
Sherbrooke
St. Aime
St. Alexandre
St. André Avelin
St. Andrews
St. Armand
St. Charles de Bellechasse
St. Chrysostome
St. Constant
St. Cuthbert
St. Denis (River Richelieu)
St. Etienne de la Malbaie
St. Eustache
St. François du Lac
St. Gabriel de Brandon
St. Georges (Beauce)
St. Germain de Grantham
St. Guillaume d'Upton
St. Henri
St. Henri de Mascouche
St. Hilaire
St. Hyacinthe
St. Irénée les Bains
St. Jean (St. John)
St. Jean de Chaillons
St. Jean Port Joli
St. Jerome
St. Johns
St. Joseph de Sorel
St. Joseph du Lac
St. Julie de Somerset
St. Lambert
St. Lambert (incl. Greenfield Park)
St. Laurent
St. Michel de Vaudreuil
St. Ours
St. Pamphile, Comte de Islet
St. Paul
St. Philippe
St. Pie
St. Pierre les Becquets
St. Remi
St. Romauld d'Etchemin
St. Timothee
St. Tite
Stanbridge East
St-André] St. Andre
St-André-D'Argenteuil] St. Andrews
Stanstead
Stanstead Plain
Ste. Adèle
Ste. Adele
Ste. Agathe des Monts
Ste. Anne de Bellevue
Ste. Anne de Bellevue
Ste. Genevieve inc. Pierrefonds
Ste. Helene de Breakeyville
Ste. Julie de Somerset, or Laurierville
Ste. Martine
Ste. Perpétue, Comte d L'Islet
Ste. Rose
Ste. Thècle
Ste. Therese
Ste-Sophie] New Glasgow
St-Pascal] St. Paschal
St-Pierre-de-la-Riviere-du Sud] St. Pierre
Sutton 1926 2 (Key only) large
Tadousac
Terrebonne
Thetford Mines
Tourville, Comté de l'Islet
Tracey
Trois Pistoles
Trois-Rivères
Val d'or
Val-Brillant] Cedar Hall
Valleyfield
Valois
Varennes
Vaudreuil
Vercheres
Verdun
Victoriaville
Ville Marie
Ville St. Pierre
Wakefield
Warwick
Waterloo
Weedon
West Shefford
West Shefford
Windsor Mills
Yamaska
Saskatchewan:
Aberdeen
Bienfait
Canora
Carlyle
Drinkwater
Estevan
Fort Qu'Appelle
Govan
Humboldt
Indian Head
Kamsack
Kinley
Maple Creek
McTaggart
Meadow Lake
Moose Jaw
Moosomin
Nipawin
Nokomis
North Battleford
North Portal
Ponteix
Prince Albert
Prince Albert
Qu'Appelle
Quill Lake
Regina
Roche Percée
Rouleau
Saltcoats
Saskatoon
Shaunavon
Star City
Swift Current
Tessier
Vonda
Wauchope
Weyburn
Wilcox
Yellow Grass
Yorkton
Yukon:
White Horse
Just going over some Fire Insurance Plans and I came across this one…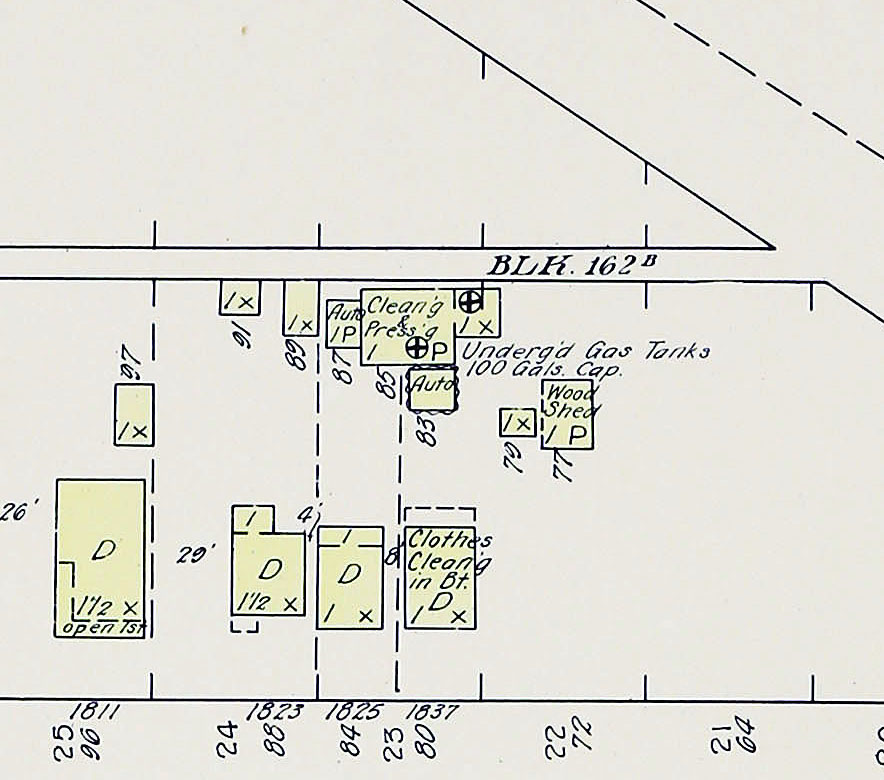 The Plan is dated January 1930 and the street is East 10th Avenue, Vancouver, BC. It shows a small cleaner, with two 100-gallon underground gasoline tanks, at the back of a single-family residential lot. There was also clothes cleaning in the basement of the dwelling.
It just goes to show, that you never know what you are going to find – A city directory search only had names for the address – no business, so the only way of knowing about this potential environmental concern is from Fire Insurance Plans.
The present location is at the east end of the Safeway parking lot seen in the map below…